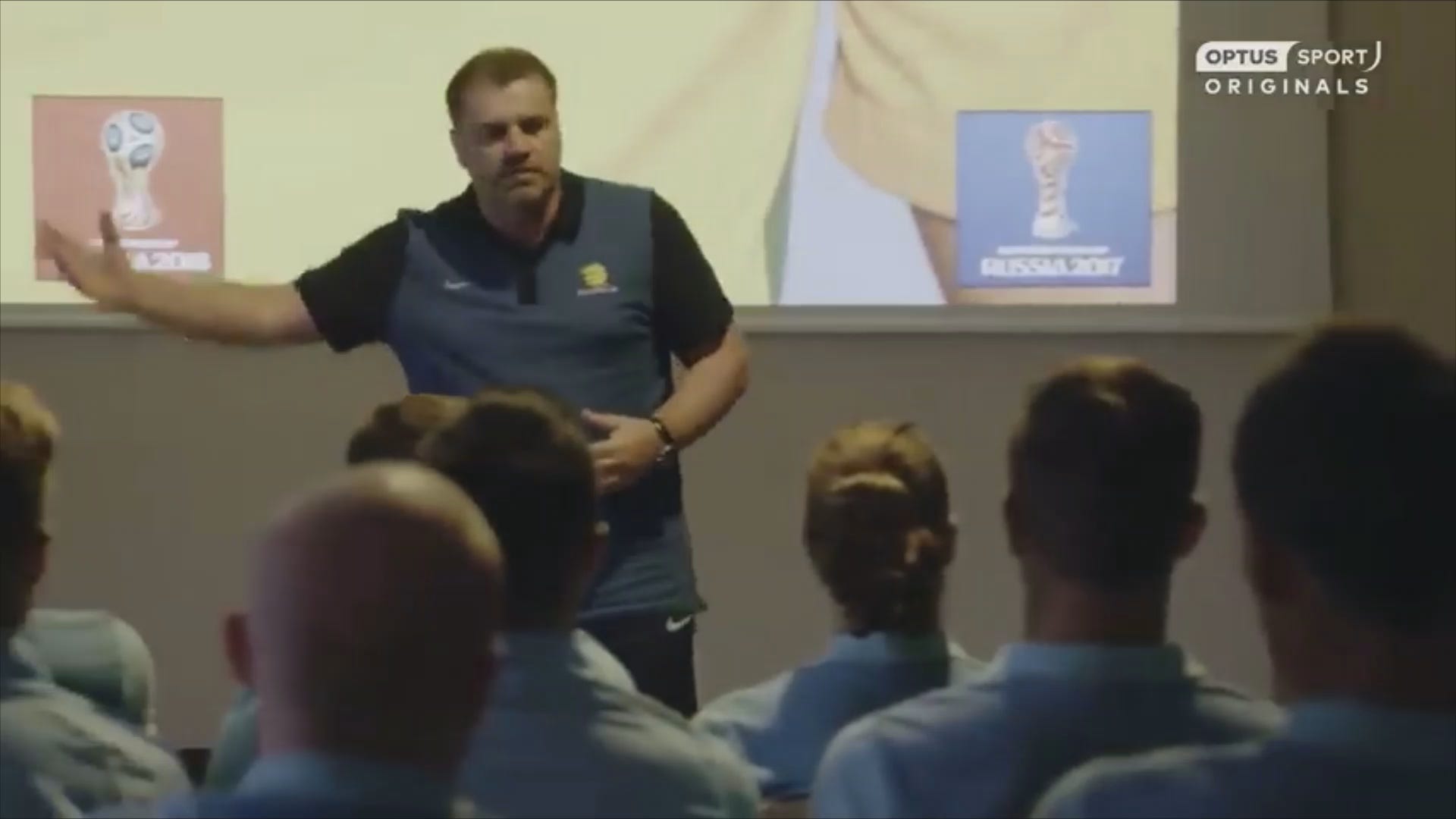 'Let them walk out with you tonight'
Australian Ange Postecoglou has been appointed to what some regard as the poisoned chalice of Premier League managerial posts, Tottenham Hotspur. But Ange can do anything. Nobody poisons our Ange.
This incredible speech appeared in Optus Sport's 'Football Belongs' documentary about the migrant influence in the Australian game. It's a topic dear to my own heart because myself and two colleagues have spent six years making a film featuring Postecoglou and others about the time Hungarian legend Ferenc Pusaks spent at South Melbourne Hellas. Next week I'll post a trailer for 'Puskas in Australia' on 'Good one, Wilson'.
Ange's speech has gone viral (again) this week as rumours swirled about his appointment to Spurs, and then again when it was confirmed. Naysayers in English football circles ask why a 57 -year-old who's never coached in the big European leagues will succeed where Conte and Mourinho couldn't. In Australia, we know Ange has climbed an impossible mountain to become the first Aussie manager to make the Premier league. In Australia, we know what he's made of.
He was this kid, arriving at Station pier as a five year old
He committed to soccer, and made himself coach of his school team at twelve, so there'd be a school team, and so it would have a coach.
He wasn't the most talented footballer, but he willed his way into a strong South Melbourne team and played in the 1984 premiership.
He captained Hellas for its 1991 premiership triumph, and regularly drove the legendary Ferenc Puskas to training in a Datsun 200B. Our documentary on this era of Ange's life is a beautiful portrait of both men, and that era of NSL football.
He became South coach, and took them not just to back to back NSL titles, but to participation in the FIFA World Club Championships in 2000 in Rio.
He became Young Socceroos maanger from 1999-2006. Australia's 'golden generation' was crowned after the 2006 World Cup (I've written a book about that tournament called Australia United), and Ange had an influence on the younger members of that team. There was also, this on air spat, between Postecoglou and Craig Foster. It's legendary footage, and shows Postecoglou's inner steel (and Foster's too - it's a points decision!)
He became our most celebrated A-League maanger at Brisbane Roar and Melbourne Victory, winning four championships and setting an Australian record 36 consecutive game unbeaten run at the Roar.
He became national coach of the Socceroos, and qualified the Socceroos for two World Cups. We also won the Asian Cup, in what is Australia's best performance in the AFC tournament. Eventually, he locked horns with a Football Australia board that was insisting on an interfering approach to selection and coaching decisions. With the 2018 World Cup only months away, Ange said he'd walk if it didn't go his way. The board wouldn't budge, daring him to follow through. After all, every coach would dream of going to a World Cup. Ange walked.
We spoke to Postecoglou for our 'Puskas in Australia' documentary two days after he quit as national coach. He was at a low ebb, and it says something for his decency, and his regard for the South Melbourne years that made him, that he kept his appointment with us. He eventually gave us over an hour, and it's the central interview for our film.
Then Postecoglou took the risky step of uprooting his family and heading to Japan, in order to coach Yokohama Marinos. It was a perfect fit for Ange to get back on track. City group owned, so well resourced, and yet underperformers, having not won a championship for 14 years. There is a great interview with Ange on the Howie Games podcast that talks about the decision to go to Japan. Within two seasons, Yokohama Marinos were champions, and Ange the toast of the J-League.
In June 2021, Celtic appointed Ange coach. There was outrage from the Celtic supporter base — 'Postecogl-who?' and all that sort of stuff. TalkSport radio's Alan Brazil's raspberry was perhaps the loudest and the most replayed as Ange almost immediately catapulted Celtic back to the top. Celtic secured the Scottish Premiership with a game to play in his first 2021-22 season, and he backed it up with the treble in 2022-23. Postecoglou is now a messianic figure amongst Celtic fans. Loved for his honesty and humour in press conferences, and for the way he honours the history of the club, and the sport.
His 'Champions again' speech at Celtic Park a fortnight ago is another one uploaded to Speakola. It's not a long acknowledgement speech, but he uses repetition, humour, a dig at his Rangers rival, a killer quote, and crowd interaction to perfection.
And the fans repay him with their signature 'Ange' chant.
(Rangers manager Micheal Beale had said Postecoglou was a 'lucky man' because of the transfer funds at his disposal)
Champions again!

And we're champions again because of this incredible group of players. Brilliantly led by our skipper Callum McGregor.

Champions again, because of this unbelievable group of people working behind the scenes, of staff. outstanding!

Champions again, because of you.

In the words of the immortal Tommy Burns, 'you are always there. Always.'

Champions again, because I am a 'lucky man'.

And we got one more to go! We never stop!
This latest incarnation of Ange doesn't stop. Now he steps into the Premier League at White Hart Lane, where executive chairman Daniel Levy has a reputation for owning a very sharp scythe and very few trophies. Will Ange succeed where the highest paid and the best credentialed have failed?
I think he will. Our Ange is climbing an Everest, and it's us Australians who understand his attacking vision (a legacy of his Puskas time perhaps?), his leadership skills, his way with words, his eye for a player, his courage, his temper, his humour, his diplomacy, his fight, his ability to just keep on winning.
Ange never stops.
Come on you Spurs! 1
---
The trailer for 'Puskas in Australia', our feature documentary about the Ange Postecoglou origin story under Ferenc Pusaks at South Melbourne Hellas, will be on Good one Wilson early next week. We have a completed cut of the film, but are still seeking funds (tax deductible donations) to clear licenced footage.
Paid subscribers can read the transcript to Ange's speech to Socceroos players in Kyrgyzstan, before 2015 qualifier that is featured video at top of page:
Watch with a 7-day free trial
Subscribe to
Speakola newsletter
to watch this video and get 7 days of free access to the full post archives.